Technology Center
Business New Business Technology Center Shared Service
Shared Service
Overview
A preliminary stage project to transform enterprise infrastructure into a cloud computing environment.
Easiness to move enterprise applications to the cloud with open linuxbased systems.
Conversion into an open platform in response to rapid change in new technologies, including clouds, internet-of-things(IoT), artificial intelligence(AI) and blockchain, is not an option but prerequisite process.
A wide range selections and cost efficiency for the enterprise because of breakaway from vendor lock-in.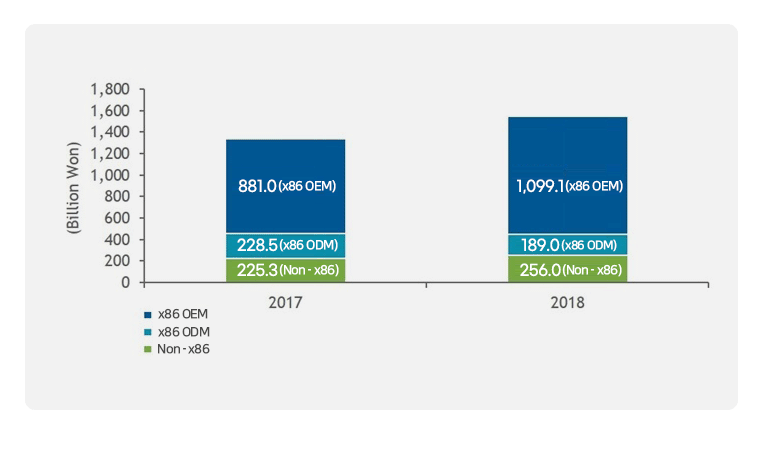 *IDC Quarterly Server Tracker, March 2019
U2L Leader in Financial Sector
having linux conversion experience KRX Exture+ system, is promoting U2L business in the finance industry with its own technical expertise.
U2L Leader in Financial Sector
having linux conversion experience KRX Exture+ system, is promoting U2L business in the finance industry with its own technical expertise.
※ K-Front(trading system for professional investors), and Kosmos(dealing system for foreign brokers) are currently running linux based system. * Built standard technical supports and business models for Linux environment
Many securities companies are currently underway in switching channel and some of their trading system process to linux, while others are waiting or on close lookout for a massive industrial level conversion to linux for their next generation system
Future Plans
Implementation of U2L, as concept of connectivity and intelligence, characterized by the fourth industrial revolution
Provision of industry standardized linux technical supports
Creation of U2L ecosystem to lead technology in financial sector and realize customer value, with linux conversion know-how and stable operations