CI Introduction
Media Room CI Introduction
This stands for a pattern of organization using Koscom's slogan. Thorough management is required upon application, while preventing any damage to the image including any deterioration and modification in any manner
koscom CI(Corporate Identity)
Establishing the English name of our corporation 'KOSCOM' as our trademark.

Koscom icon

Our icon represents the nature of progress, which contains the determination of Koscom to be more creative and oriented toward the future

Small letters in the trademark

Using small letters conveys a soft and friendly corporate image as a whole while the connection of the letters 'c' and 'o' implies our partnership with our customers.
Logo Type
Korea
English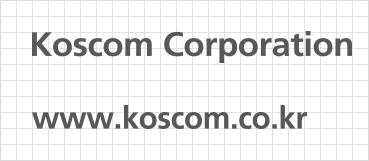 Signature Coporate Name & Web Address
Koscom's logo is the most representative element of visual symbols in the CI system. Accordingly, it should be precisely applied in accordance with regulations by item as demonstrated in the manual in order to deliver the image of Koscom accurately.
The application of the logo should be taken into consideration upon developing any product and management is required, while preventing any damage to the image including any deterioration and modification in any manner.